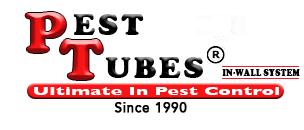 Pest Tubes
We service all pest tubes!!!
The Pest Tubes system is a permanent built-in system that delivers the material directly in the walls and hollow areas, eliminating the pests right where they nest, hide and breed.

Why Pest Tubes?
No Risk. EPA approved pre-measured amounts of products are injected as a very fine mist inside the walls using the Pest Tubes system, allowing occupation of the structure even during treatment without risk to children, adults or pets.
Stability. The Pest Tubes system consists of space-age polyethylene tubing with evenly spaced perforations facilitating product distribution. The tubing is manufactured without connectors, eliminating any chance of separation. The products we use are "non-clogging". THE TUBES WILL NOT CLOG OR BREAK APART.
No Hassle. Pest Tubes offers maximum convenience with a centrally located exterior injection port. You don't even have to be home for applications. Since tubing distributes the material within the walls, there is no need for moving furniture, emptying cabinets and closets, or changing plans.
Proven Over 26 Years. Over 26 years of installations, our system has proven itself over and over again with satisfied and happy customers.
Professional Service. Highly trained, Certified Pest Control Technicians service the "Inside-the-walls" system to the customer's complete satisfaction. The skilled professionals are provided with the equipment and support needed to assure that there will be no occurrence of pest infestations in any room of any structure protected by the Pest Tubes system.
---
Top reasons to have our Pest Tubes "inside-the-walls" system installed in your new home or commercial building:
Reduces chemicals being sprayed in your home.
Reduces the need to rearrange your schedule to set appointments for service. The service box is on the outside of your house. You will not even have to be home for the service.
Eliminates the need to empty closets and cabinets.
Our tubing is manufactured without connectors – eliminating any chance of separation.